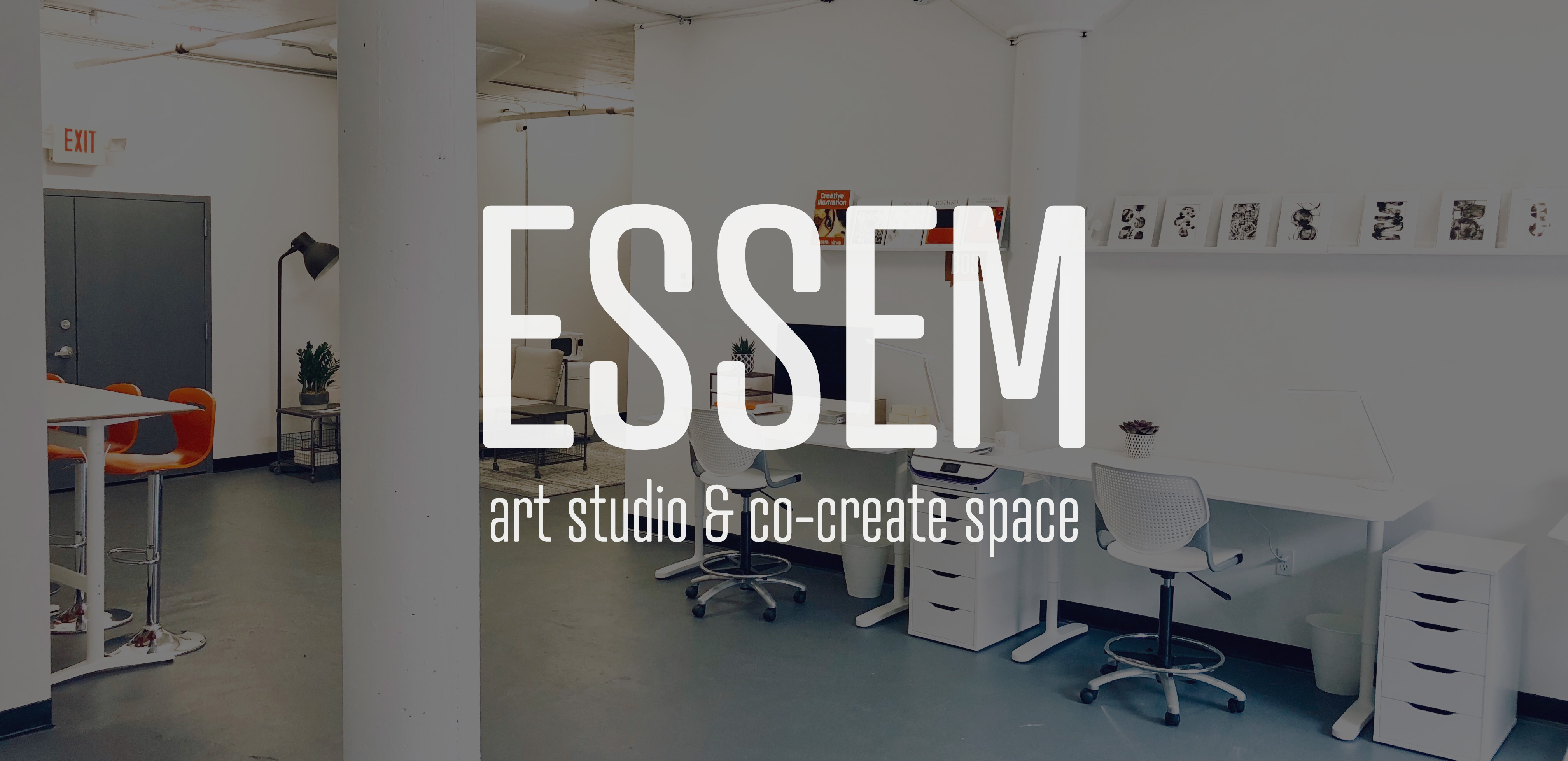 Essem Art Studio is located in the Charlestown Commerce Center. In addition to an art studio, it features a collaborative co-working community for freelance creatives in Charlestown. Studiomates are kind humans who make/do cool things, who are open to collaborating with other creatives to mutually elevate and support one another. Essem Art Studio was founded by abstract artist, freelance creative, and Charlestown resident, Sophia Moon. 
Moon started Essem Art Studio because she wanted to break out of her solitary "work-from-home-mom" life. With the help of her husband and family, she designed her dream work space—a private art studio where she creates, paints, and runs art labs; and an intimate co-working space for like-minded freelance creatives who are also seeking connection, community, and collaboration."
Studiomates pay a monthly fee for a dedicated desk and enjoy 24/7 access to a beautiful and inspiring work space with the added attraction of a strong community of fellow creatives that inevitably lays the groundwork for referrals, collaborations, and elevated vision and productivity.
Essem is all about fostering authentic relationships, nurturing your personal tribe, and building a strong community. It is the proud headquarters for CMBOS, the team behind CreativeMornings/Boston, a free breakfast lecture series for the creative community. Sophia Moon is the current host of this growing community of 5000+ Boston Creatives with monthly events boasting 150-250 awesome creatives and a growing list of amazing local sponsors and partners. 
We are pleased to offer a limited number of dedicated desks in our co-share creative space:
Large Working Desks (63″ x 30″) + Drafting chairs  + Day lamps w/USB + Desk Drawers

The shared community space includes a comfy sitting area and bar tables (subject to class/event schedule).

Keycard access into the building and studio, security cameras in the building and studio. Always feel safe.

Unlimited coffee, tea, and filtered water. We also have a small shared fridge and microwave.

Our studiomates enjoy the flexibility of 24/7 access, you are not limited by normal business hours.

In addition to dedicated drawer units, studiomates can have additional storage upon request (based on availability).
Ideal studiomates love what they do and are serious about taking their hustle to the next level; enjoy a collaborative environment; thrive in an artist community; are kind souls.
Studio Calendar.
Please be sure to check the calendar for any updates and changes to event and availability. 
Essem Art Studio
Charlestown Commerce Center | Building 2
50 Terminal Street Suite #711
Charlestown, MA 02129
Contact: Sophia Moon
tel: (617) 617-1020
email: hello@essemartstudio.com